Testimonials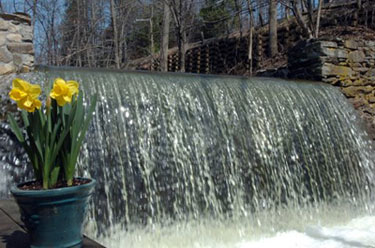 My property, Riverdance Mill is a unique and charming piece of Litchfield County. I was contacted by Ct DEP and ordered to repair/rebuild my dam. I was at my wits end when I came across an advertisement for LR Enterprises. I made the phone call that saved my sanity.
Bob and Lee Rimbach came out, we met, reviewed DEP requirements and discussed their involvement. They made suggestions that were approved by DEP that saved me a great deal of money. I hired them that day and from that moment things improved. With their in depth knowledge of dam construction, excellent workmanship and fine reputation with the State the project moved along in a responsible, concise manner. Long story short..my dam..dam work was completed on time and on our new improved budget! And I couldn't have been more pleased.
If you are lucky enough to have Bob and Lee Rimbach involved in your project, you are lucky enough! Oh and by the way you will gain wonderful new friends in the process.
Roberta Smith
Riverdance Mill
--------------
In 2008 we (the McLean Game Refuge) hired L.R. Enterprises, Inc. to construct a control structure/fishway in Bissell Brook. These structures gave Refuge Staff the ability to simultaneously control water moving into Trout Pond while still allowing fish species to move up and down the brook unhindered.
In 2009 we began the second phase of our project, which entailed the complete replacement of a rather large 50-year-old concrete spillway in Trout Pond.
Both projects, although challenging in several regards, were completed on time and on budget by LRE.
I cannot over state the skill, experience and plain old common sense that LRE brought to our projects. It was a true pleasure to work with Bob and Lee. I highly recommend them to anyone contemplating new construction or repair work in or around water.
Steven A. Paine, Director
McLean Game Refuge
--------------
LR Enterprises were extremely helpful doing our project. They were on time, on budget and were extremely professional in handling everything from the initial planning to the last details. I would highly recommend LR Enterprises for any dam project, large or small.
Tim Hitchcock